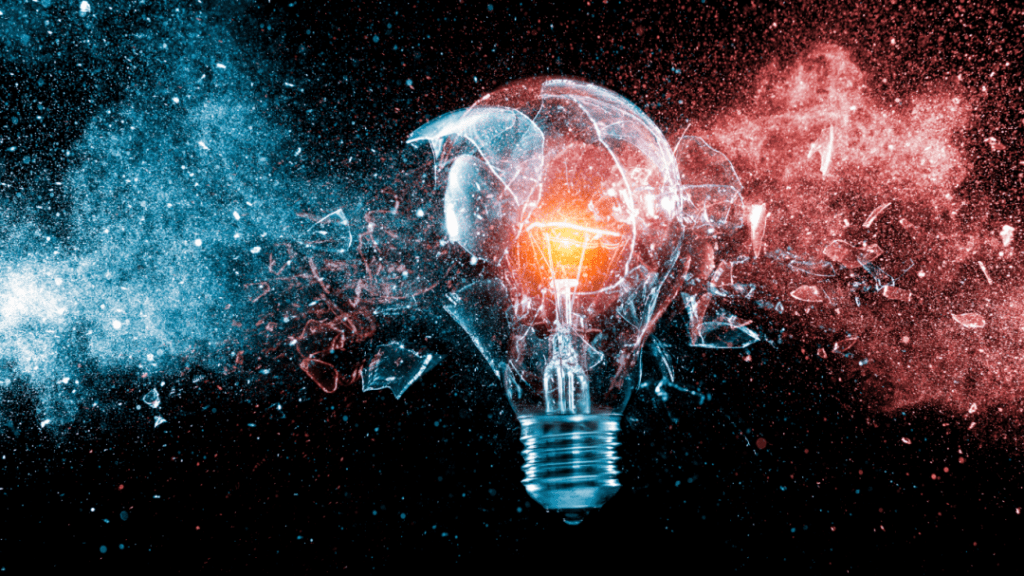 Data practitioners often jump between various tools, and this fragmentation leads to problems in collaboration, sharing, and productivity.
The increase in enterprise cloud data volumes and the emergence of data transformation, model building, and visualization tools have driven the rise of modern data stacks. Most companies are increasing their investment in data teams to adapt to constantly changing demands. However, it's not hard to find that sharing and publishing data work is still complicated, and data practitioners often need to use multiple tools, such as Jupyter Notebook, SQL scratchpad, Google Docs, etc.

At the same time, more and more enterprises are beginning to require non-data employees to have data literacy, such as product management, finance, and business operations personnel. However, traditional tools are difficult to get started with and are not user-friendly for non-technical users. Additionally, the growth in workload further leads to collaboration and sharing issues.

Hex is targeting this market. It provides a cloud-based programming environment where users can program in Python/R+SQL, and it also supports data visualization and relationship viewing between data. Hex also has excellent collaboration capabilities and supports sharing. The visual reports generated by Hex can be shared as App-compatible formats or embedded into online document tools like Notion.

In short, Hex provides customers with collaborative data science programming tools, where users can leverage data science computational capabilities, collaborate on programming, and generate dynamic BI reports directly. In summary, it can be understood as a BI platform with programming collaboration capabilities.
Discovered Collaboration Needs While Working at Palantir
Hex was founded in 2019 by three co-founders who met while working at Palantir. In their work, they found that sharing and publishing data tasks were extremely difficult, workflows were severely isolated, and collaboration was subpar. They believed that there was a demand for tools like Figma for designers and what Notion did for documents in this market. Therefore, Hex aims to integrate the best Notebook and data visualization into a single platform.
Hex makes code-based workflows more accessible by connecting users across the technical spectrum, enabling stakeholders to raise and answer questions, collaborate, and accumulate knowledge. Before the Hex platform, data scientists and analysts often jumped between multiple tools. This fragmentation led to problems with collaboration, sharing, and productivity. Hex is committed to eliminating this user friction, allowing data teams to focus on their work.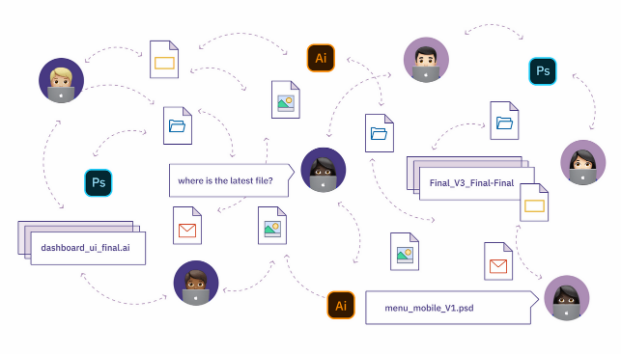 Cloud and AI Drive Continued Market Growth
According to a report by Fortune Business Insights, the global data analytics market size is expected to reach $656 billion by 2030, with a compound annual growth rate (CAGR) of 13.4% from 2022 to 2029.
The industry's growth is primarily driven by three factors: firstly, the increasing application of predictive data analytics tools; secondly, the continuous shift of data storage to the public cloud; and finally, the rise of AI and ML in enterprise applications. In addition, the growth of cloud data platforms and the surge in ETL and data maintenance tools make it easier for businesses to adopt and maintain cloud data warehouses.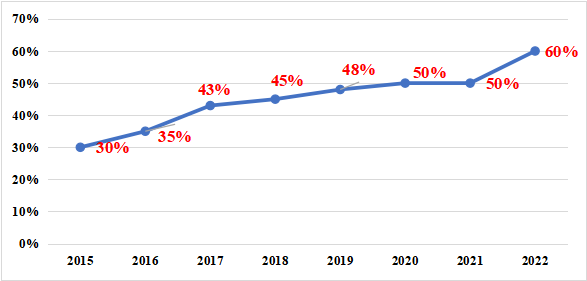 A rapid growth Based on Subscription
Hex's customer base is mainly comprised of two categories. The first category consists of professionals in the data field, such as data scientists and data analysts. The second category includes non-data professionals who aim to expand their knowledge, such as product managers, business operators, and financial personnel. Hex aims to bridge the gap between data teams and non-technical stakeholders.
For these two user groups, Hex offers four levels of subscription pricing based on seats. For individual users, the community level is usually chosen, which provides up to 5 free projects. For data professionals or small teams, the professional level subscription is suitable, with a monthly fee of $36 per editor.
For larger teams that require expanded data collaboration and governance, the team level subscription is typically chosen, with a monthly fee of $75 per editor. Lastly, for enterprise users, Hex's enterprise-level subscription offers customized pricing and solutions, including services such as private cloud deployment, custom Docker images, and dedicated troubleshooting and support.
In summary, Hex charges editors and administrators based on seats while allowing viewers and visitors to use the platform for free within the professional and team plans. Non-data users like engineers and product managers typically enter as viewers and eventually become editors over time.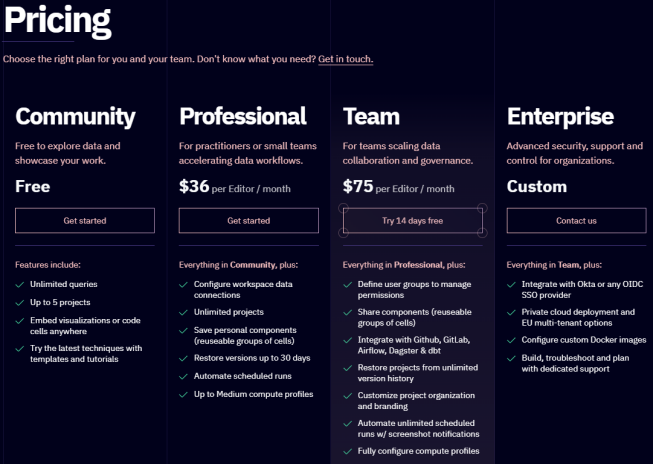 As of March 2023, Hex has provided services to over 500 companies, including Brex, Notion, Toast, AngelList, Loom, and Fivetran. The company's customer count and revenue have quadrupled in 2022, and the platform's user base has increased tenfold.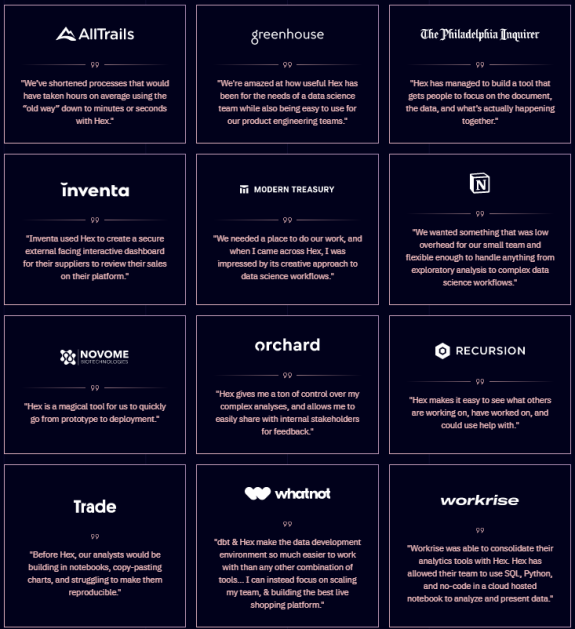 New Opportunities Bring Capital Assistance
The popularity of large language models has provided Hex with an opportunity to further reduce the barriers for data professionals and increase the potential number of users. For example, GPT-4 can generate SQL and Python code.
In February 2023, Hex released the beta version of its generative AI-assisted tool, Hex Magic, aiming to embrace this opportunity. It can parse and understand patterns and project contexts, allowing Hex to transform questions written in natural language into SQL or Python code.
The significant improvement in AI capabilities will give time back to data teams while enabling non-technical users to ask questions and provide answers. Furthermore, with the reduced user barriers, it is worth noting the potential for Hex's expansion beyond professional data users.
Although viewers currently use Hex for free, there is still room for Hex's growth in the data realm. Retool provides a successful example by extending technical products to non-technical end-users, thereby increasing revenue. It allows technical users to build internal tools and charge based on seats. Retool can benefit throughout the organization by increasing seats for both technical and non-technical users.
The new opportunities also led Hex to secure a Series B funding of $28 million in March 2023, led by Sequoia, with participation from existing investors Andreessen Horowitz, Amplify, and Snowflake. To date, Hex has raised over $100 million in funding.
Risks Persist, Hex is Not Without Concerns
First, there is a high cost of user conversion.
Hex is a newcomer in this industry, and many target customers already have existing data tools within their organizations. Therefore, the cost of migration and conversion for users must be considered. It is essential to determine if they have the motivation to switch to Hex. For example, the cost of migrating hundreds of charts and related data tables from Looker to Hex is quite high. As a result, Hex must prove that its productivity improvements outweigh the migration costs and implementation time.
Secondly, there is insufficient penetration into large enterprise customers.
Hex also aims to penetrate the high-end market to unlock new users and higher Actual Cash Value (ACV). Hex has already established a strong foundation primarily focused on small and medium-sized tech companies. However, there are still challenges in developing the high-end market because these enterprises require more complexity, and many of them already have internal solutions in place. For instance, companies like Uber have developed their internal data science tools to manage massive data workloads. Hex needs to continue strengthening its product features to address this.
Lastly, the unfavorable macroeconomic conditions leading to a decline in valuations and layoffs in tech companies.
Coincidentally, a significant portion of Hex's customers are tech companies. Given that data professionals often have high salaries, many tech companies in Silicon Valley have laid them off to save costs. These data professionals who have been laid off are precisely Hex's core users. Additionally, for teams responsible for core operations such as product management or engineering, the data team may be perceived as less important.
In conclusion, Hex has made an early breakthrough by providing collaboration, connectivity, and productivity for small and mid-sized companies. We believe that data scientist tools are still in the early stages of modernization. Despite facing fierce competition, Hex's development is still worth paying attention to.