The COVID-19 pandemic has brought suffering to humanity but has also accelerated certain industries, including business communication. Business communication is shifting towards cloud-based phone systems. Nowadays, companies are increasingly turning to cloud-delivered solutions that combine a full range of communications such as phone, audio/video/web conferencing, messaging, and fax.

Today, let's take a look at a company called Dialpad, a cloud-based business communication, collaboration, and contact center platform. The platform aims to provide users with a "single management platform" for all their business communications.
Founders – Serial Entrepreneurs in the Communication Field
Dialpad was founded in 2011 by CEO Craig Walker and CTO Brian Peterson. Walker had previous entrepreneurial experience, with his internet phone service provider Dialpad Communications being acquired by Yahoo in 2005 and another telecommunications startup, Grand Central, being acquired by Google for $50 million in 2007.
In 2010, Walker joined Google Ventures as an Entrepreneur-in-Residence (EIR), and based on his previous experience, he and Peterson co-founded UberConference, which later became Dialpad.
It is worth mentioning that half of the first 30 employees of the company came from Google, and Dialpad's Google foundation laid a solid foundation for the company. Looking at the CEO's experience, we can see that the founders have deep expertise in the communication field and the ability to quickly build teams.
Two Product Lines
In terms of the business communication product line, Dialpad combines calling, chatting, and video conferencing on one platform.
Dialpad transcribes calls, creates action items, snippets, and notes. It sorts incoming calls based on call routing rules, allowing users to track and manage conversations. Users can also assign operators, set business hours, create custom greetings, upload hold music, and transfer incoming calls to specific individuals in the team.
Dialpad Business Communications products include Dialpad AI Messaging and Dialpad AI Meetings. With AI Messaging, users can chat with their teams or external partners across devices in a single application, send files of various shapes and sizes, and connect with tools like Google Drive.
AI Meetings allow users to turn their video on or off at any time. Users can also share screens from any device, and visitors do not need to download the application. Additionally, a new feature called AI Recap uses AI algorithms, proprietary models, and ChatGPT's summarization and text generation capabilities. It creates a summary that captures the main ideas, topics, and follow-up items of the conversation.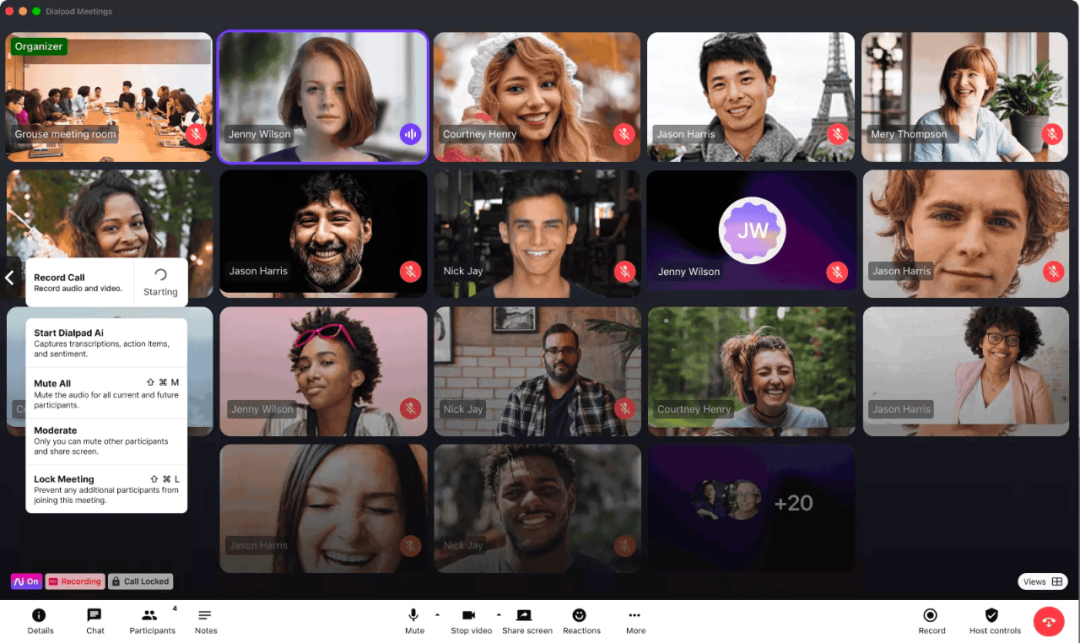 In terms of customer interaction product line, Dialpad's customer interaction products include AI Contact Center, AI Sales, Self-Service, and AI CSAT.
AI Contact Center is a cross-channel AI-supported contact center that can be used within the same application for Dialpad's business communications. AI Sales provides tools such as emotion analysis, real-time AI guidance, and real-time assistance for outbound teams. Self-Service aims to simplify the process of providing virtual customer assistance. Users can connect their knowledge sources, such as websites, CRM, and ticketing systems, to Dialpad using this solution. Lastly, AI CSAT automatically provides customer satisfaction ratings after each call.
Rapid Market Growth, Focusing on Enterprise and Mid-Market
Dialpad primarily operates in two major markets: UCaaS (Unified Communications as a Service) and CCaaS (Contact Center as a Service).
UCaaS is a cloud-based delivery solution that combines a full range of communication functionalities. Its rise has been facilitated by digital transformation, hybrid work environments, and the adoption of cloud technologies. According to reports, the global UCaaS market was valued at approximately $91.7 billion in 2022 and is projected to reach $381.2 billion by 2030. In the CCaaS market, contact centers are now required to handle both inbound (e.g., customer support) and outbound (e.g., sales and marketing) interactions. In 2022, the global CCaaS market was valued at $4.7 billion and is expected to reach $15.1 billion by 2028.
Regarding customer segments, Dialpad categorizes its customers into large enterprises, mid-market, and SMBs (Small and Medium-sized Businesses).
Dialpad serves a wide range of industries, including education, healthcare, real estate, technology, professional services, law, retail, recruiting, and automotive. Some notable customers include Stripe, Uber, Splunk, PagerDuty, Toast, Drizly, Quora, TED, and Crunchbase. According to data from April 2023, the enterprise customer segment experienced the fastest growth in the fourth quarter of 2022, driven by Dialpad's AI capabilities. While Dialpad initially achieved success by securing contracts with large enterprises like Motorola, the company has faced challenges such as long sales cycles and skepticism from enterprise customers. As a result, the company has started to place increased emphasis on the mid-market segment.
On the product front, Dialpad has evolved from its core business phone product to a broader business communication and customer interaction platform. It has transitioned from a single SKU (Stock Keeping Unit) to multiple SKU offerings and cross-sells to its existing customer base.
Challenges from Competitors
RingCentral is a market leader in the business communications and contact center solutions market. It generated approximately $2 billion in total revenue in 2022, with $300 million from CCaaS solutions. The company has strong enterprise partnerships, including AT&T, Vodafone, and AWS. In comparison to RingCentral, Dialpad targets cloud-friendly customer segments.
Zoom is also entering this market, selling Zoom Phone as part of its comprehensive business communication suite, Zoom One. As of January 2023, Zoom had 5.5 million users. Zoom also offers room audio conferencing solutions with the aim of becoming a feature-rich unified communication and contact center solution. Compared to Zoom, Dialpad has more expertise in telecommunications.
Lastly, as Dialpad becomes more proactive in selling its sales and contact center solutions, it will encounter specialized participants in these areas, such as Five9, a publicly traded company with a market capitalization of $4.1 billion as of May 2023. If businesses prioritize reliable phone systems over specialized contact centers, they may choose Dialpad. Regardless, Dialpad will not be alone in these endeavors.
Rapid ARR Growth Attracts Capital Support
Dialpad primarily charges for its products such as business communication, AI meetings, AI contact center, and AI sales. The business communication product follows a self-serve user-based pricing model, offering free trial meeting products and enterprise pricing as required. The AI sales and AI contact center solutions are custom-priced for enterprises.
Through these pricing models, Dialpad announced achieving $200 million in ARR in April 2023, with over 30,000 customers. Notable customers include Stripe, Uber, Splunk, PagerDuty, Quora, and others. In December 2021, the company completed a Series F funding round of $170 million at a valuation of $2.2 billion. As of May 2023, it has raised a total of $450 million in funding. The business's success has attracted capital support.
Opportunities from AI and Vendor Consolidation
AI innovation will be a growth opportunity for Dialpad, which has invested $50 million in AI research and development.
In 2022, its AI engineers published nine research papers. Leveraging generative AI capabilities, they introduced multiple products such as AI Recap (meeting summaries), AI Scorecards for agent guidance, Coaching Hub (a real-time coaching platform), and AI Playbooks (providing real-time guidance and tracking of sales processes).
Additionally, against the backdrop of a slowing global economy, Dialpad offers a cost-saving solution by combining business telephony, messaging, meetings, contact center, and sales functions, enabling vendor consolidation. With Dialpad driving innovation in its business phone system, any enterprise that considers phone communication as a critical task, such as real estate agents or WeWork office managers calling headquarters, presents business expansion opportunities for Dialpad.
In summary, Dialpad, founded by Google Voice veterans, has evolved from a cloud-based phone system to a unified business communication platform, incorporating telephony, meetings, messaging, and more. With over 3,000 customers and $200 million in ARR, Dialpad has established a solid position. However, it faces competition from players like RingCentral and new entrants like Zoom. Dialpad aims to differentiate itself through its unified platform, integrating data from all channels into analytics and integrated AI solutions. Its future development trajectory is worth continued attention.